Ask your South Bend Roofing Contractor these 4 things
When choosing your South Bend roofing contractor, you will have many options and the process could get overwhelming. The following are 4 questions you should definitely find the answers to.
1: Does the Contractor Sub-Contract the Roof Install or Self-Perform.
This is often overlooked when choosing a South Bend roofing contractor. What many
homeowners don't know is that the majority of roofing contractors have few or no actual employees. Instead, they farm out their projects to various sub-contractors saving a few bucks in the process.
Roofing is a dangerous occupation, therefore the insurance required to perform it is equally expensive (close to 30% of labor costs are associated with workers comp insurance. ). By sub-contracting all their roofing labor out, general contractors are able to avoid those direct costs.  However,  if the subs are not insured and an accident happens, the General Contractor's insurance will typically not accept liability. This leaves the homeowner with an enormous risk depending on the severity of the accident.
(Close to 30% of labor costs are associated with workers comp insurance. )
What to do: The safest thing to do is hire a company like HomeWorks Construction who self-performs all their own roofing installations. This assures that you are covered in case of accidents. If you do use a contractor who does not self-perform, then require to see insurance certificates for all sub-contractors used on your project.
2: What Materials are They Using.
As with most everything, there are different grade and priced materials that can be used on your roofing install.
Underlayment – (Synthetic vs. Roofing Felt)
The purpose of underlayment is 3 fold
1: It acts as a moisture barrier between the bottom of the shingles and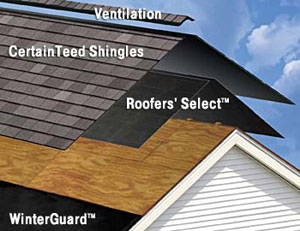 the decking on your house.
2: It acts as a barrier between the chemicals in the roof decking and shingles from interacting and causing premature aging.
3: It acts as an additional layer of heat and sound barrier.
HomeWorks' only uses a synthetic underlayment on our South Bend and Michiana roofing projects. There are many articles written on the pros and cons of synthetic/felt, but our reasons for using it ultimately come down to these 3.
1: It is safer for our installers to work on.  Felt tears easily which exposes our employees to unnecessary risks
2: It does not telegraph wrinkles. If felt is used and shingles are not installed immediately, wrinkles will form which will be visible once the final shingle install is completed
3: It is one of the required components of the our roofing system which allow us to offer our unprecedented lifetime workmanship warranty!
Flashings:
Make sure and ask your South Bend roofing contractor whether they will be installing new flashing or simply reusing the existing materials. Although reusing existing flashing is a way to get a cheaper roof, there are many dangers to doing it this way. There is no way of knowing what type of repairs have been made to these materials in the past, or if they were even installed correctly to begin with. We have seen everything from mis-nailed pieces covered with caulk to people even using cut up pop cans as flashing. As South Bend's roofing professional, we would rather install a quality product with a lifetime workmanship warranty then save a couple hundred dollars and hope for the best.
Shingles:
Make sure you know the exact type of shingles your installer is using and what type of manufacturer warranty comes with them. There are quite a few different bargain brands on the market and if your contractor only says he will be installing an "Architectural Shingle" you have no idea what you're actually getting. HomeWorks' recommends using Certainteed Shingles in your installation. From our professional standpoint, Certainteed offers not only the best quality, but also the strongest warranty.
Insulation and Ventilation:
Did you know that both of these are vital components to not only the lifespan of your roof, but also to the overall effectiveness of your home? The main purpose of these 2 components are to keep the air temperature in your attic regulated. You need to have a consistent turnover of attic air in order to ensure that your attic doesn't get to hot. Overheated attics can lead to moisture problems and ultimately decrease the life of the shingle and/or void the manufacturer's warranty. Make sure that your South Bend roofing contractor has inspected the attic, as this is a sure way to know he is doing a thorough job.
3: Warranty:
All warranties are certainly not created equal. The standard in the South Bend Roofing construction industry is a 2 year warranty. The reason for this is that that is minimum required by most state laws. Most roofing companies will tell you that they are installing 30,40 or 50 year shingle, so their personal warranty doesn't matter. However, the small print in most manufacturers warranties detail out the warranty is pro-rated, has to be purchased, not applicable under X,Y and Z. You get the picture right?
This is one of the reason why HomeWorks' has chosen to go with Certainteed roofing materials. As a Certainteed Shinglemaster, HomeWorks is able to offer you a very simple but lock-tight guarantee. Should the shingle fail during the warranty period, it will be repaired or replaced at no cost to you.
4: Tear off and clean up.
This is an often overlooked area of the roofing process. What are the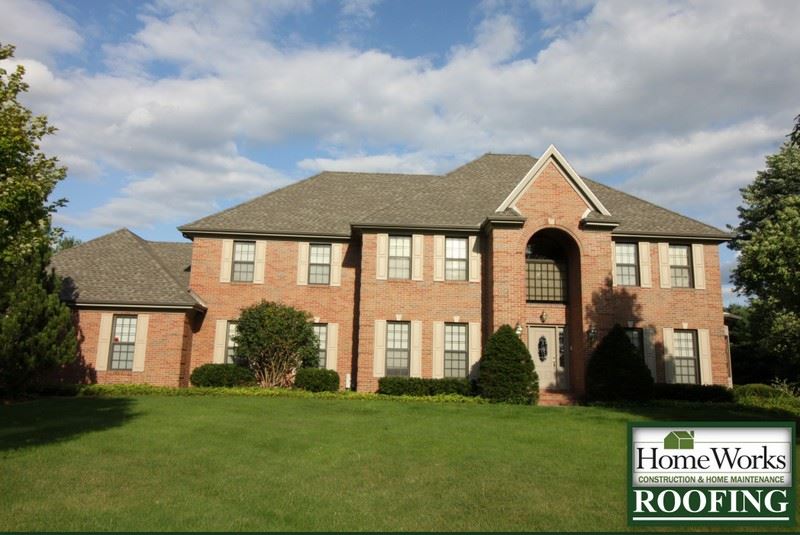 company processes in place during the tear off of the existing roof? What protective measures are they going to take to ensure that your windows, siding and landscaping do not get harmed. Some of this goes back to the sub-contractor vs. self performing debate. At HomeWorks, we have a very specific training process that our in-house roofing crews go through to ensure they understand the HomeWorks way. There is a specific method in which we protect your property so that absolutely nothing is damaged during the roofing project.
Questions? Check out our main roofing page,  call Homeworks at 574.318.WORK or have a roofing specialist contact you.