Replacement Window Buying Guide
With so many types of available replacement windows, use this as a guide to help make an informed decision.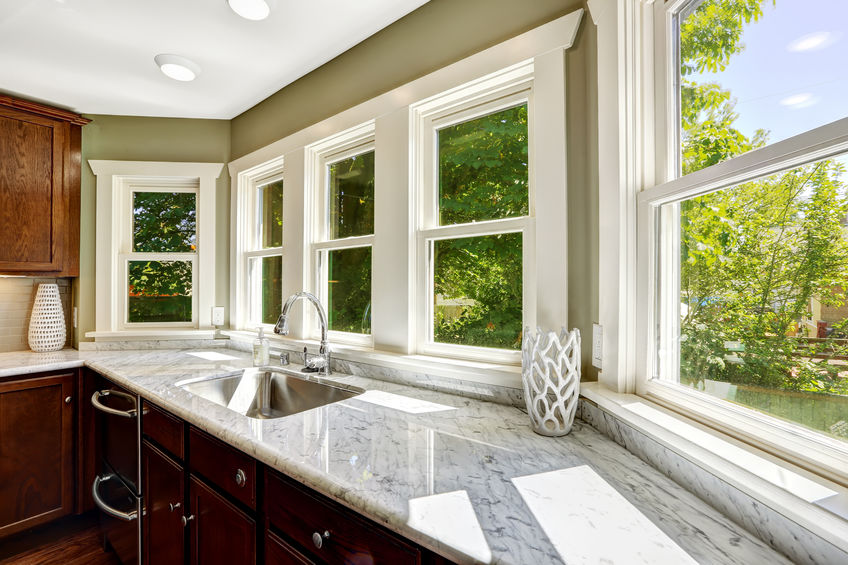 Replacement Window Basics
First, let's cover basics. Windows are broken down into 2 wide categories; replacement ( pocket ) windows and new construction windows.
The main difference is that new construction windows have a nailing fin that's used to fasten the new window to the sheathing of the structure.
Replacement windows ( pocket windows ) fit inside the frame of the old window opening. The replacement window is then connected to the structure using fasteners placed through the sides of the window. Most home and business remodeling projects utilize replacement windows unless the existing frame needs to be replaced.
---
Window Anatomy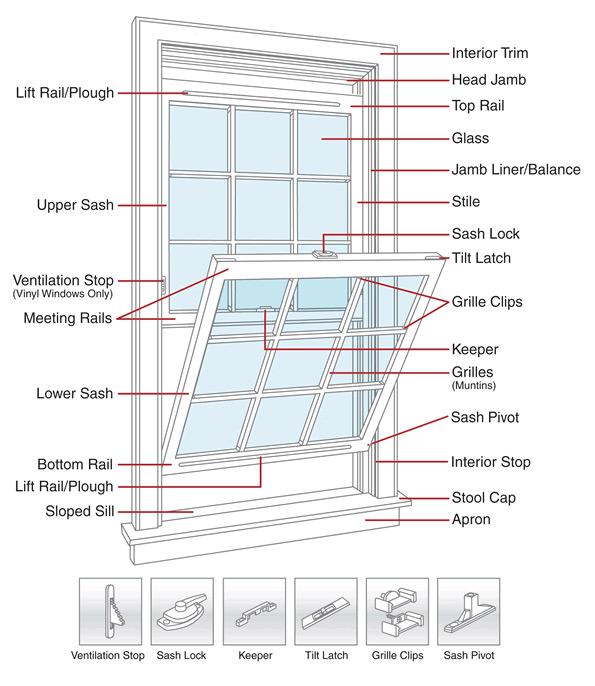 ---
Types of Replacement Windows

---
Double Hung Windows
Double hung windows are by far the most popular style of replacement window. On this option, both sashes are operational and usually tilt out for easier cleaning. This is especially key when the windows are located on the second story.
---
Single Hung Windows
Single-hung windows only have one operational sash. Most modern models allow for this sash to tilt outwards for ease of cleaning. Going this route offers marginal savings but usually not enough to change a buying decision.
---
Accent Window
Accent windows are typically used where some light is desired but no direct line of view is needed. Many times you'll see these in bathrooms or hallways.
---
Sliding Window
Sliding windows are often used in larger spaces. They could take the place of 2 smaller double-hung windows or even an existing picture window. They have one ( or more ) sections which slide along a bottom track.
---
Glass Block Windows
Glass block windows are normally used in basements or bathrooms. Not necessarily in vogue at the moment, they still are useful when renovating a bathroom with a window in the shower. It provides natural light while keeping required privacy.
---
Casement Window
Casement windows open from one side and allow for a larger open space then a similarly sized double-hung window. This increases air flow and satisfies most egress requirements. They are typically more expensive than a double-hung replacement window of the same variety and size.
---
Projection Windows
Projection windows stick out from the main body of the house. Examples of this type of window is bow and bay windows. Many times, this window is paired with a window seat.
---
Picture Window
Picture windows are solid windows with no moving parts. They function as sources of light and wide open views.
---
Awning Windows
Awning windows tilt out from the top and provide protection from rain when opened.
---
Skylights
Skylights are roof mounted windows and may be fixed or operational. Many types also can be remotely controlled if access is an issue.
---
This covers the basics on the styles of replacement windows available. Choosing a qualified remodeling contractor and window expert to help guide you through the remaining decisions like frame style and glass/grid options is a key decision that needs to be made. A correct choice here will give you an experience that is stress free and results in a phenomenal end product. Be careful and make the right decision at this step – it can have lasting consequences.
---
Check out our dozens of positive reviews from over the last few months on Google, Facebook and the Better Business Bureau.
What are you waiting for? Call Homeworks at 574.318.WORK or Click Here to have a replacement window specialist contact you.