Property Board Up Services
---
---
Need Help? Call Now: 574.318.WORK
---
Emergency Window and Door Property Board Up Services:
No matter what the disaster, HomeWorks Construction and Restoration property board up department is able to secure your home or business in order to mitigate any further damage. Local municipalities have stated that it's the responsibility of a property owner to board up all damaged windows, doors and roofs after a fire or storm.
24/7 Emergency Property Board Up Services Response:
HomeWorks Restoration has crews on standby 24 hours a day who are able to respond to your property board up call within 30 minutes of the incoming notification. This is a division of our larger emergency services department.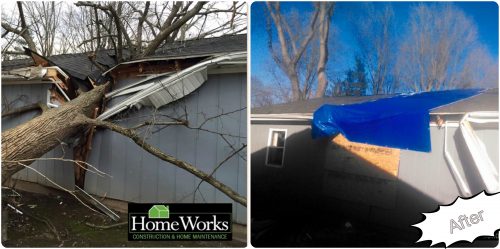 We Work With Your Insurance:
Payment for property board ups are handled directly between HomeWorks and your insurance company. You will not have to come out of pocket ( if you are properly insured ).
Insurance Partners

USAA
Allstate
Farmers
American Family
Country Financial
AAA
Nationwide
….and more
Additional Services:
In addition to standard post fire and storm board up services, we also complete the following type of emergency repairs.
Emergency Services

Door and Window Board up
Roof Covering and Tarping
Shoring & structural stabilization
Temporary fencing
Complete building enclosure
Plumbing winterization
Emergency demolition
Choose HomeWorks Construction and Restoration for all of your emergency services needs. We offer a full array of assistance in all cases of wind damage, storm damage, water damage and fire damage.  Our service area includes South Bend, Mishawaka, Granger, Osceola and the larger Michiana area.