Kitchen Remodeling -The Work Triangle

If you're about to embark on a kitchen remodeling journey, a simple design concept that will save you time and energy is the work triangle. Your kitchen is an extension of your living space and one of the most used rooms of your home. It makes sense to design towards function and ease.
Understanding the kitchen work triangle:
As you prepare food, you naturally move between three places where you do three different tasks: Cleanup, Cooking, and Food Storage — your sink, cooktop and refrigerator. Picture a triangle that links them. This is called your kitchen work triangle and it's at the heart of your kitchen remodeling design. It was first introduced in the 1940s by kitchen designers to maximize efficiency of a one-cook kitchen.  Ideally, each side should be between 4 and 9  feet long. The idea is that when these three elements of your kitchen are placed close to each other, it's easier to accomplish most kitchen tasks. You'll also need a place for food preparation within your work triangle. It could be a counter-top on an island, or between the cooking and food storage zones. There are a few different kitchen layout and design styles based on the work triangle concept.
L-shaped Kitchen Design
The L-shaped kitchen is the most popular kitchen remodeling design as it is perfect for both small and medium sized kitchens. When you plan to use a L-shaped design, take time to plan where small appliances such as toasters and mixers will be placed. There's usually plenty of space at the corners of the L where counter space is most plentiful. Ensure that you are specifying that extra outlets be placed in these locations.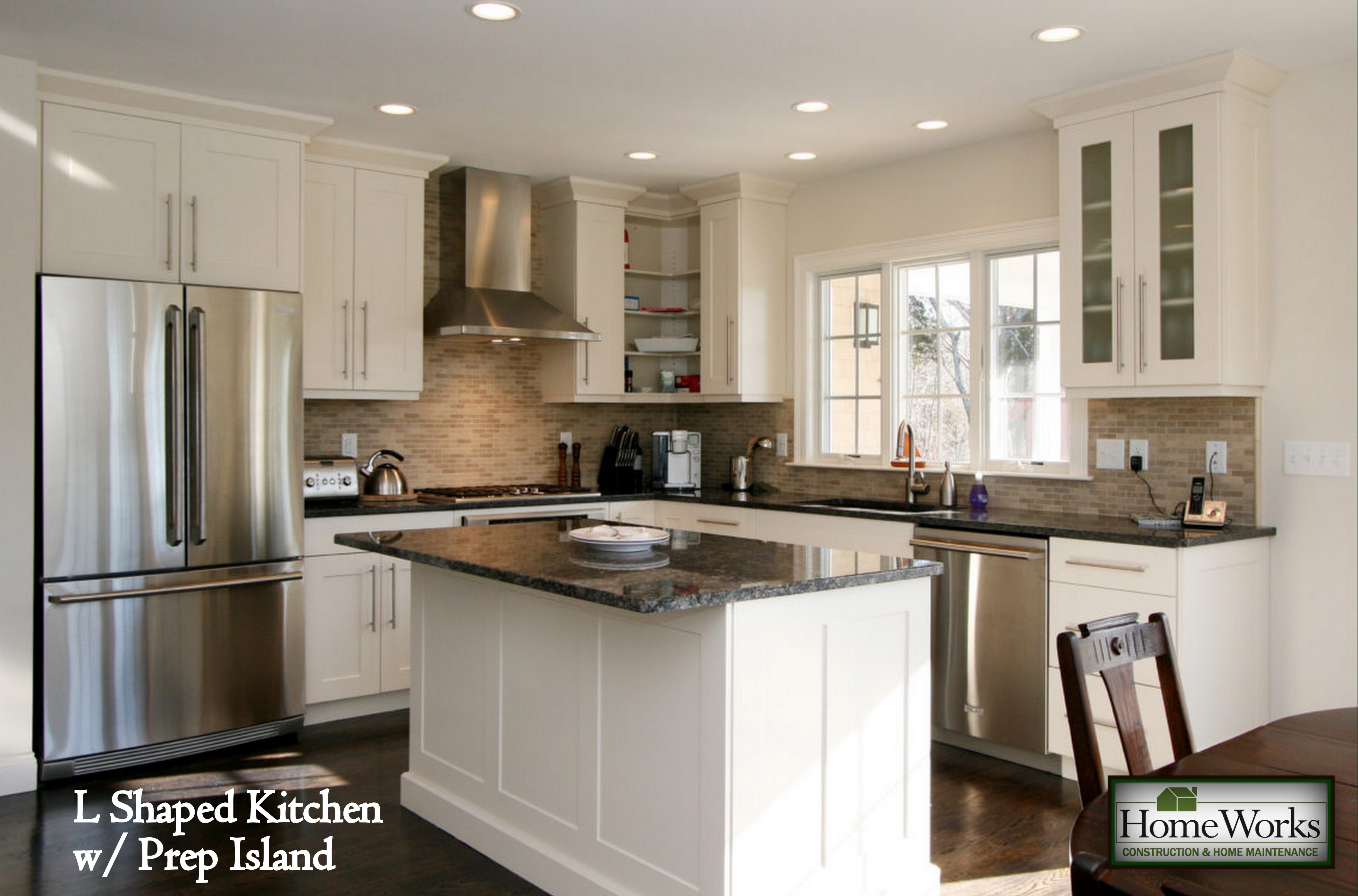 L-SHAPED PROS
~It's practical and versatile and can easily be enhanced by adding a kitchen island.
~Very efficient in multipurpose spaces where there is limited wall space ( it only needs two adjacent walls ).
~It keeps foot traffic and obstacles to a minimum.
L-SHAPED CONS
~Unless appliances like dishwashers and fridges are integrated, it can look cluttered with appliances lining the counter top spaces.
~Corner cabinets may be the largest and deepest, but this may make it difficult to reach utensils inside. However, utilizing creative storage techniques like the pull-out corner cabinet negates this.
~An island is usually needed to increase storage space and reduce clutter
~It is not recommended for a larger kitchen as the sides will be too far apart.
U-shaped Kitchen Design
This kitchen remodeling layout is better suited for larger spaces. It offers lots of counter space within easy reach. With this design, you can include large windows, more cabinets and a unique lightening design. The cook is surrounded with appliances and preparation space. If your home is large enough, you can add an Island to the middle of the "U".
U-SHAPED PROS
~Plenty of counter space. It does not require an island as there is adequate space to cook and all appliances are easily accessible.
~Free flowing traffic – it allows guests and family walk through the room without getting in the cook's way. It is great for entertaining large groups of people.
~Well-organized – you can easily divide the kitchen into multiple work sites so it is an ideal layout for large families where there may be more than one cook
U-SHAPED CONS
~Not efficient in smaller spaces – it may look cramped for kitchens less than ten feet wide. It requires an open kitchen plan and could be even more congested if a kitchen island is added.
~Work triangle is spaced out – the layout makes achieving a perfect triangle layout marginally more difficult depending on the area between the sides.
Galley Kitchen Design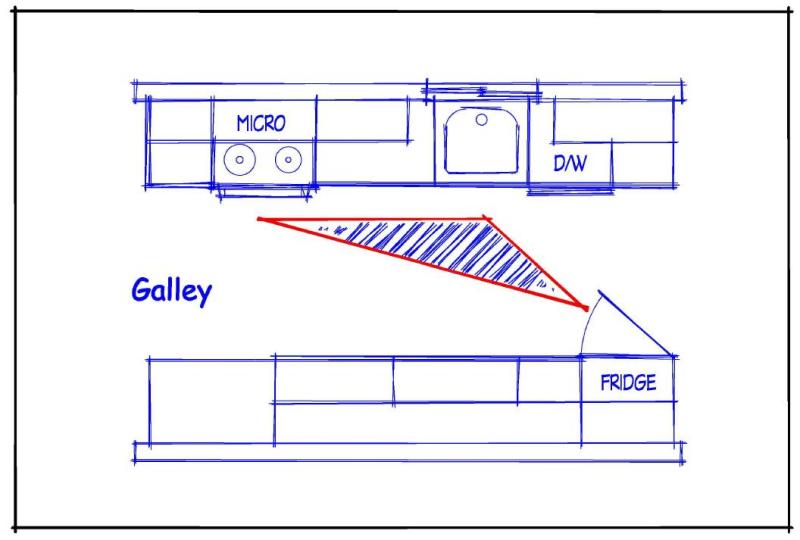 The galley kitchen layout is shaped like a hallway. They are a good way to utilize corridors by incorporating all necessary elements on either side of a narrow space. The galley layout is weighted more towards practicality than functionality. This design is more suitable for small apartments and studios. Appliances can be stored on opposite walls for a better work space.
GALLEY  PROS
~Efficiency – gallery kitchens maximize space and increase efficiency of small spaces. Two parallel counters mean everything is within reach.
~Affordability – It is the cheapest layout to use. Galley kitchens tend to be small so the cost of cabinetry, counter tops and back-splash is much reduced.
~Easy to maintain – It is very easy to clean and maintain as work triangle elements are close to each other.
GALLEY CONS
~Limited flexibility – there is little room for expansion in this layout, counter spaces are limited possibly making them cluttered less efficient.
~Poor lighting – if there is no natural light or if tall cabinets are overdone.
~Traffic congestion – the width may not accommodate two cooks working together.
Tips for choosing a kitchen design
Your kitchen remodeling design depends a lot on your work triangle. You also need to think about your lifestyle, floor plan, shape, decorations and budget. A good kitchen design needs to consider everything; it needs to be functionally efficient, comfortable and good looking too. Now, let us go through some great tips that can help you when designing your new kitchen remodel.
Think about how well you get around in your current kitchen. What annoys you in your kitchen? What makes cooking difficult for you? What could be added or removed within your budget that would improve your efficiency? Thinking about what irks you the most will help you figure out how to organize your kitchen space within the work triangle format. Make sure you're getting an upgrade!
Know the dimensions of your kitchen. Before deciding on the design for your work triangle, you should know how much space you have. The total counter space should be between 12 – 27 feet. About nine feet for each side of the triangle is generally ideal with around 48 inches of isle room for people to move around easily. If the distance is too small, your kitchen will feel cramped. If it's too large, cooking efficiently and comfortably will be challenging.
Make sure that the floor lines of your work triangle are not interrupted by cabinetry or any appliances. Having trash cans, kitchen appliances and other necessities in the wrong place can end up making cooking harder for you.
Consider additional functions when determining your work triangle. Today's kitchen has become multi-purpose. Determine what functions you want your kitchen to serve and then figure out exactly what features to add or remove. It will also help you decide how exactly to position your work triangle.
There are no rules! It is YOUR kitchen. Most importantly, today's kitchen may have more than one cook so you don't necessarily have to play by all the rules. Just set to creating the most functional kitchen possible for YOU!
Lastly, your lifestyle determines your kitchen functionality. The kitchen work triangle is a helpful tool. It should however not prevent you from thinking creatively when it comes to designing your kitchen. Kitchen layouts are now so diverse in form and function that you can easily pick the right layout for your lifestyle.
Choosing a kitchen remodeling contractor with dozens of kitchen's worth of experience will certainly aid in this process.  Make sure and do your homework ( you can start by reading this post )
If you have questions or would like understand exactly how HomeWorks Remodeling tackles kitchen remodeling then check out our Kitchen's info site or schedule an appointment.