Kitchen Remodeling Trends – 2017
Every homeowner wants a well-organized and efficient kitchen regardless of its type and size. If you're thinking about remodeling your kitchen next year, we're way ahead of you. Let's look at the top five kitchen remodeling trends in 2016 that we expect to continue into 2017.
1: Smart Storage

You can get more usage for your existing space without breaking the bank. There are many custom storage options that will unclutter your kitchen and increase your efficiency. Some of these are
Corner Drawers – This improved corner cabinet gives you better access to items inside a corner without bending over and overreaching inside.
Multi-Functional Islands – Next generation Island units do more than increase storage space and work space. Storage units below can accommodate small appliances and stay hidden. You can also include portable cabinet units that you can move around as needed. An integrated chopping board on the top can also make it a brilliant multipurpose piece without costing you any additional real estate.
Under-Sink Drawer – The drawer keeps cleaning supplies close by. A slide out organizer increases its functionality.
Spice Storage – This rack design on cabinet doors has proved popular for small jars and spice bottles. It is very practical and easily adaptable by your contractor.
Dish Drawers – By using dish drawers with adjustable pegs, you can have easier access to china dishes and other breakables. Dividers and inserts also allow for better organization of different sized plates, pans and utensils
Pull Out Drawers – it works great for pots and pans. Put these in deep cabinets to make better use of the corners
2: Granite is Still King

Granite is still the material of choice for kitchen counter-tops. It's affordable, looks classy, and requires low maintenance and upkeep compared to other solid surfaces.  We've talked in depth about the major solid surface counter-top types in this past post.
3: Prep Sinks

The average American home cook spends roughly 90 minutes daily prepping food and cleaning up the resulting mess. Many homeowners now install prep sinks especially in homes of large families or those who entertain frequently. Depending on where you install it, it could be called a veggie sink, clean-up sink, bar sink. It doesn't have to be large but paired with an extendable faucet, you've got yourself a time saver with food preparation.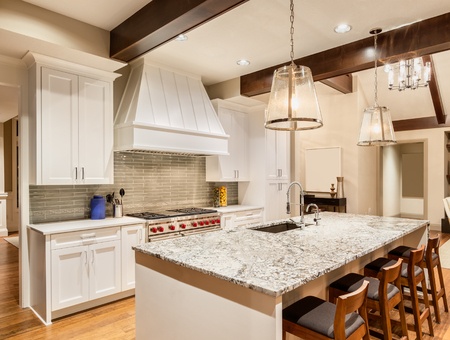 Convenience – You can locate it far enough from the main sink to make it relevant to the task you need it for. For example, a prep sink near the bar will assist with making cocktails and washing up cups.
As an Island sink – It reduces foot traffic around the kitchen. It can be centered on the island or set off to one side depending on your design preference and the size of your island.
Allows for multiple cooks – it makes your kitchen more communal. An extra sink also increasing entertaining and service areas when you're hosting friends and family. There's also more space to do more.
You can enhance the design by adding several décor styles. Consider a copper sink complete with an antique farmhouse faucet. The possibilities are endless. You can also include a drying rack insert so you have more room for dishes and cups.
4: Kitchen Lighting
A well-lit work area is a safety essential in a kitchen. Lighting can also be used to create ambience. Having so much more cabinetry and appliances means more light is required. The key to good kitchen lighting is to rely on a cast of lighting sources and to layer your task, and accent or decorative lighting with natural light.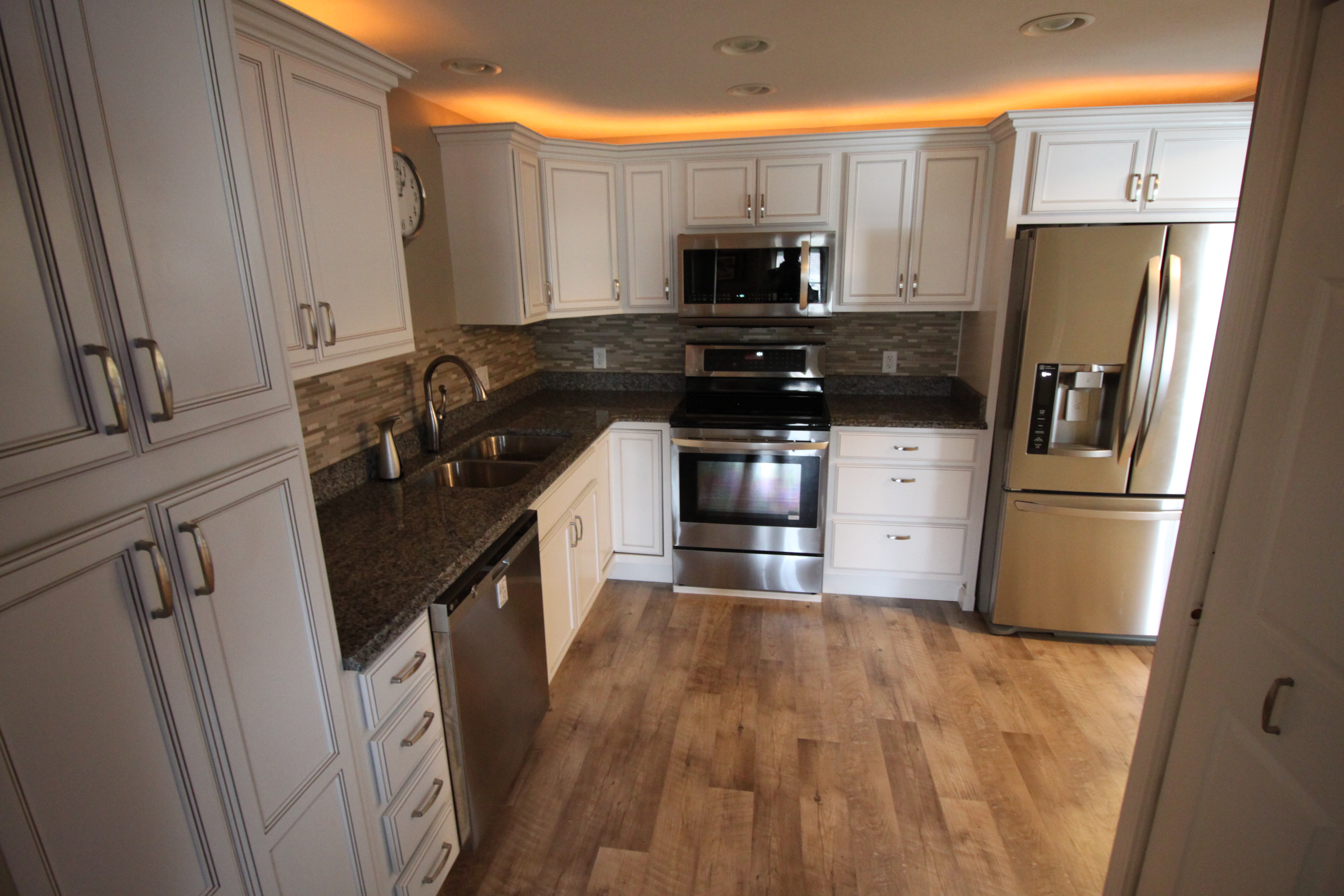 Windows – It's the most important source of natural lighting. One large window at the end of a gallery-style kitchen can provide strong natural light. Install simple window blinds to adjust the intensity as desired. We always suggest incorporating as many windows as possible into our kitchen remodeling designs.
Cabinet Lighting – In 2016, we used cabinet lighting extensively to brighten up our kitchens.  Low voltage LED light strips above cabinets and under-cabinet task and accent lighting are becoming the norm. In-cabinet lighting highlights your favorite dishes and accessories.
Big and Bold Fixtures – Go modern with a large pendant, decorative chandelier to add a light focal point to your kitchen. Alternatively, you can go traditional and use a lantern or hanging ceiling lights to cast a warm glow over your kitchen island. Make sure to keep these fixtures about 30 inches above an island, peninsula, or table, but might be higher if you are taller or are placing the light over a raised surface or an area such as a cooktop.
5: Glass Cabinet Doors:

There is something very elegant about glass that makes it a plus in every kitchen. Glass-front cabinets in a kitchen give off a certain charm and distinction that you cannot get with other materials.  It is a modern design trend that isn't going away anytime soon. Glass front cabinets look more modern than wood or solid style doors. The insides are visible and a stylish complement to any organized kitchen. It helps keep an open look while providing a guard against cabinet disarray. In other words, you are motivated to keep your kitchen well-arranged and tidy. Some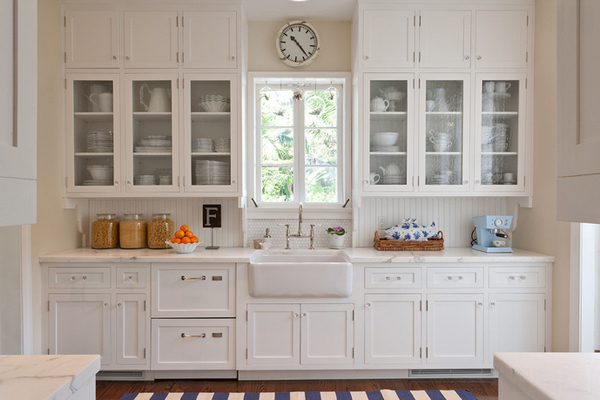 common glass-front styles are
Clear glass – clean style with a view highlighting your cabinetry. Show off your organization skills or your best set of chinaware. It's easy to mix with bright color cabinets to create a vibrant atmosphere
Frosted glass – This is common in modern kitchen designs. The sandblasted glass is rough, producing a matte-like finish. It conceals your cabinet insides, offering not more than a sneak peek.
Reeded glass – it also distorts most of your cabinet insides in a contemporary way. Looks amazing with paired with a wood cabinet finish especially in small kitchens
---