Kitchen Remodel: Choosing your Quartz, Granite,  Laminate or Corian Countertops
Are you planning a bathroom or kitchen remodel? Are you having a challenging time selecting the countertop options that suit your needs and preferences? Don't be overwhelmed, choosing a countertop can be difficult, but this post will help guide you.
Of all the choices to be made in every aspect of a kitchen or bathroom remodel; appliances, fixtures, flooring, cabinets, knobs etc; selecting a countertop is one of the most important. Think of it as the hairstyle for your home. It's meant to pull everything together and amplify the underlying beauty.
Quartz

Quartz countertops are one of the best types available . They are made of ground up binding resins, quartz stone, and dyes. The look and feel of quartz countertops are similar to granite and concrete countertops but they often can be more expensive. Upon receiving quotes, don't be surprised to be in the $135-$195 per square foot range.
Pros
The 2 most attractive qualities of Quartz countertops are their durability and stain resistance. Although Quartz countertops are just as strong as granite countertops,  they are more forgiving, which makes them easier to work with and increases their resistance to chipping or cracking.
Another plus is that Quartz does not require any sealing because they are non-porous.
Cons
There are 2 major drawbacks to Quartz. Number one is that they can discolor over time when exposed to direct sunlight. The fix to this is to have a UV resistant film applied to your windows. Secondly, quartz does not resist heat as well as other solid surface tops. Leaving a hot pan or curling iron in contact with the top can lead to discoloration.
Granite
Granite countertops are completely natural and durable. These countertops have become the standard for elegance, durability, and design for any bathroom or kitchen remodel. Granite countertops offer a unique aesthetic and will help take your kitchen or bathroom to the next level! Cost-wise, granite can be a litle more budget friendly compared to quartz; expect to pay between $105-$155 per square foot.
Pros
Granite has a rich, natural beauty that other countertop materials often lack.
With over 20 varieties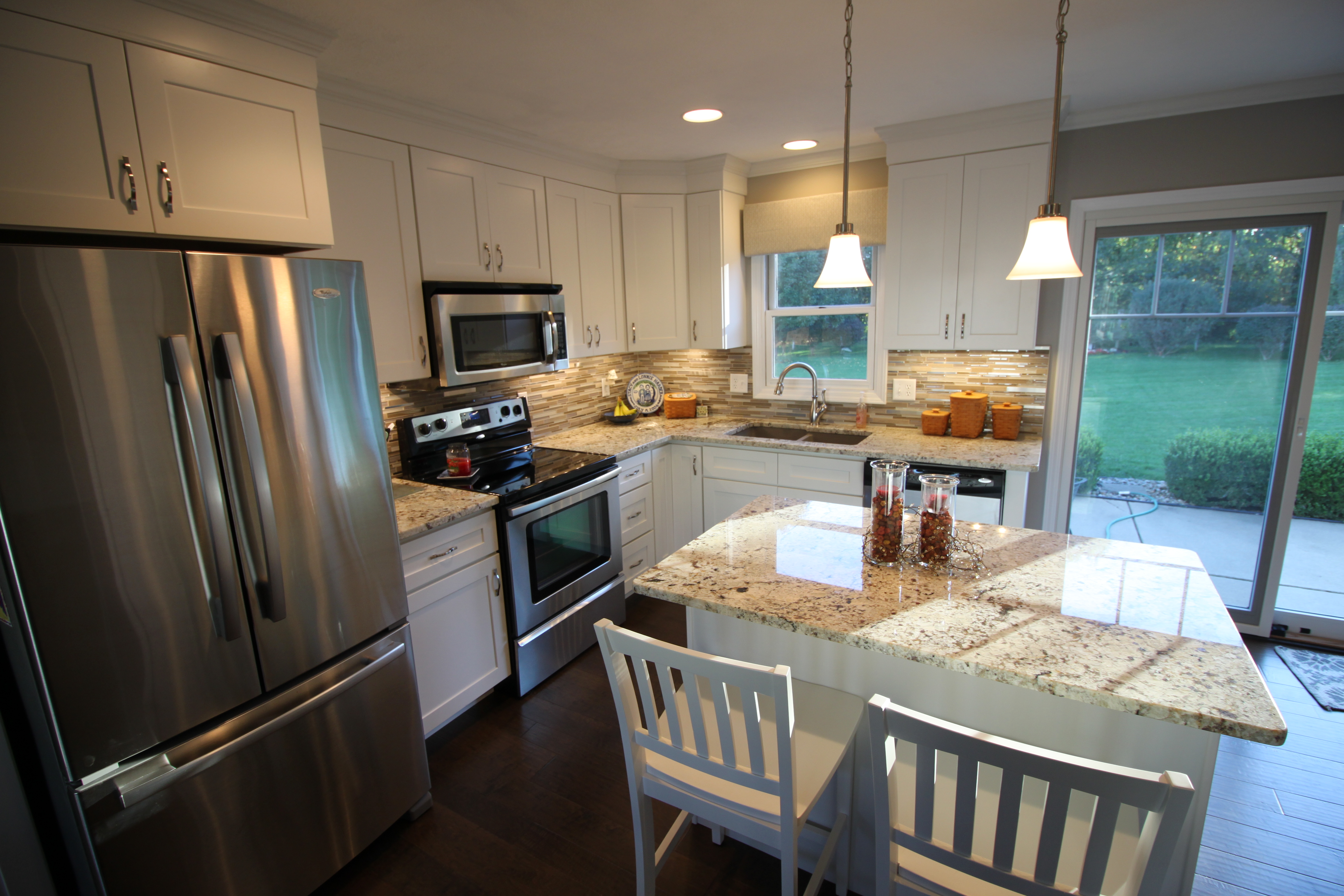 of granite available, it's easy to find one that blends perfectly with your kitchen or bathroom walls, cabinets, and flooring.
One of the main features of Granite countertops is they are extremely hard and durable. What this means to you is they will not scratch or chip easily! They also are stain resistant when sealed properly.
Cons
The major weakness of granite can occur when the countertops are not properly sealed or the sealant wears off. Granite is very porous, therefore the unsealed counters can absorb juice, oil or wine, producing a stain that might be very hard or impossible to remove. A poorly-sealed granite countertop can also harbor bacteria in its pores.
Laminate
Modern Laminate countertops are versatile, and affordable.  This makes laminate countertops a popular option for many bathroom and  kitchen remodel projects today. They provide an eco-friendly surface that's adaptable to any lifestyle.. The main selling points of Laminate countertops is that they can provide a look and feel of more expensive surfaces such as granite, wood, metal or marble. Wilsonart currently is the largest provider of laminate tops, check out some of their varieties
here
Pros
Laminate is the most widely available material and the least expensive option for a countertops. The low cost makes it ideal for budget minded individuals. Since laminate is ultimately 70% glued together paper, these tops are also one of the most eco-friendly solutions on the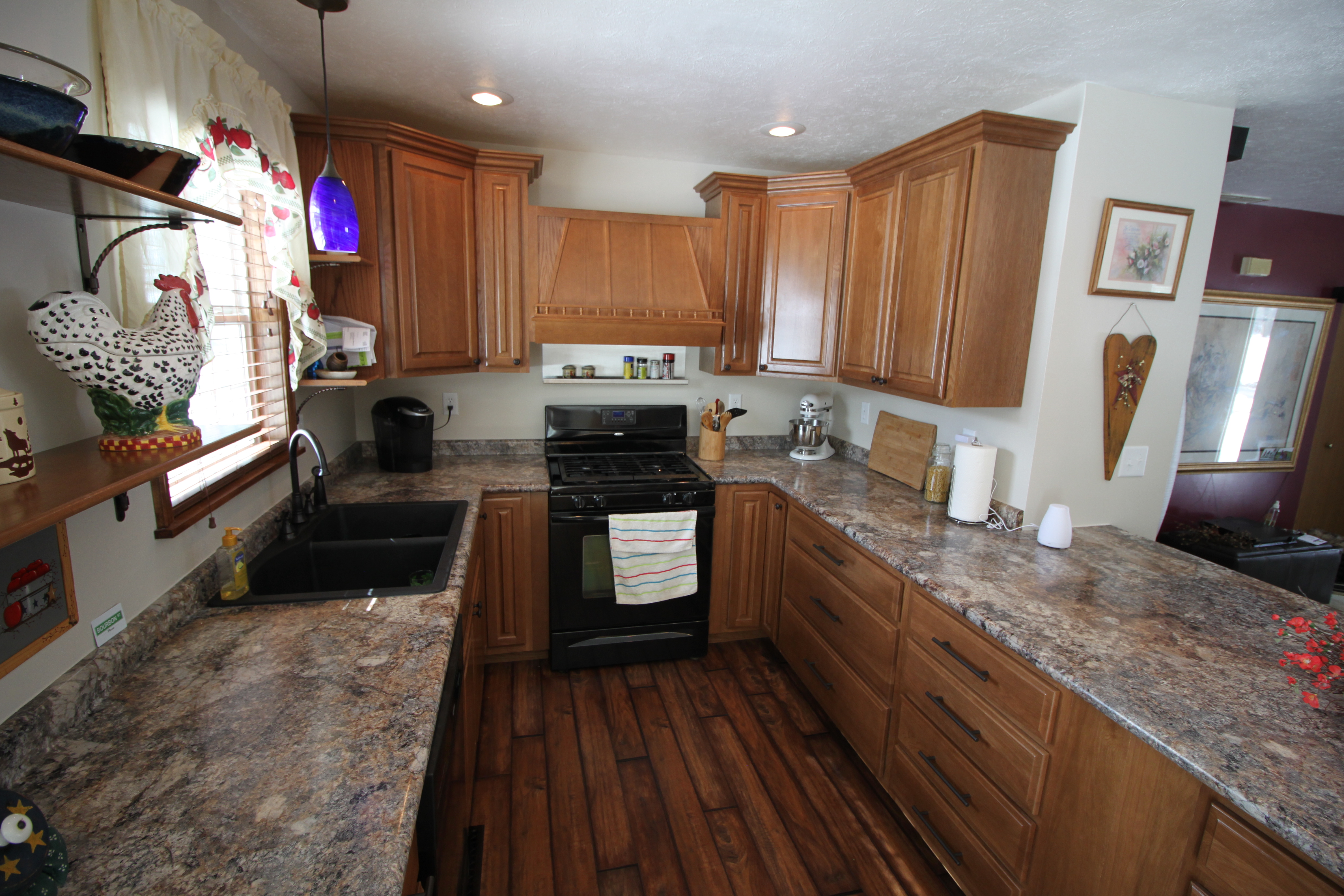 market!
Cons
Unfortunately, durability is sacrificed for affordability. Due to its nature and construction, laminate is damaged very easily. It's able to be scratched, burned and dinged if you're not careful.
Think of Laminate countertops like multiple sheets of craft paper glued together. Once the top seal is damaged, you get down to the material underneath.  Since laminate can't be repaired you will either have to live with the defect or think about replacement.
Kitchen Remodel – Corian
Corian countertops are made of synthetic materials that provide an awesome look and feel. The surface is usually very smooth, seamless and very uniform throughout.  Also, there is an almost unlimited variety of
colors to choose from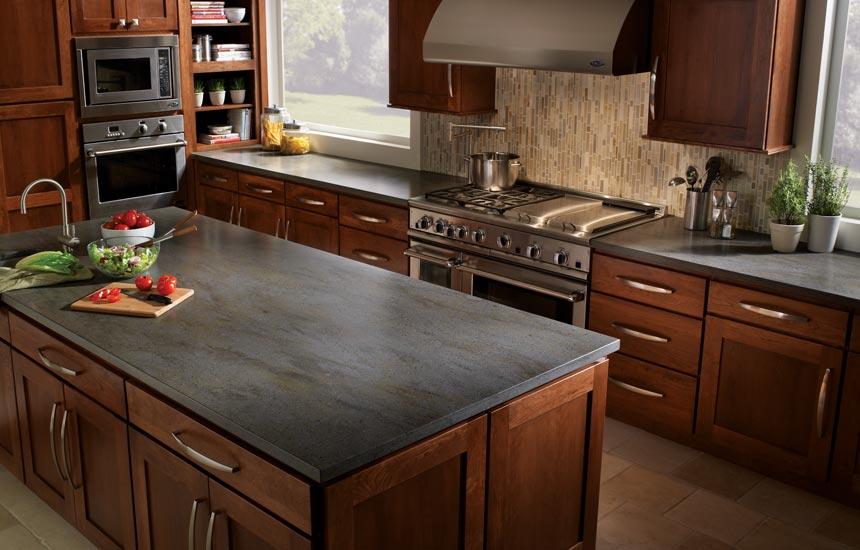 Pros
Corian countertops can be sculpted into various awesome designs. Additionally,  dents and scratches on Corian countertops can be easily fixed. Another great feature is that these tops can be fabricated with integrated sinks and backsplashes! Most people use Corian when they want to specifically obtain a direct color match or want uniform looking tops.
Cons
Corian countertops are not as strong and durable as other solid surface tops such as granite and quartz. You must be careful not to set hot items on the top ( due to scorching ) and also be sure not to cut directly on top. Last but not least, do not let liquids sit for long as they can start to stain.
Want to learn more? Need to schedule an appointment for a kitchen or basement remodel? Give us a call at 574-318-9675. Also, check out our customer reviews here