South Bend Siding
Choosing the right siding for your home is challenging because it affects both the aesthetics and durability of your home. Siding insulates and protects your home, but more importantly it showcases who you are! With so many designs, colors and textures to choose from, it's essential to know what each type of siding offers you.
Vinyl siding is arguably the least expensive and most common siding option available. In fact, 33% of new homes constructed since 2012 utilized this type (US Census Bureau).
Features and Benefits
Diversity: There are hundreds of different colors and textures to choose from. Additionally, there are insulated types to help keep those utility bills low.
Durability: Vinyl is designed to withstand nature's worst fits. Whether it's a 150 mph wind, snow storm or heat wave;  vinyl  has been designed to meet and exceed the demands placed on it. The warranties provided by manufacturers back this up.
Maintenance: Unlike other types of siding, vinyl  does not need to be painted. A seasonal washing will make it look fresh and attractive. Vinyl isn't susceptible to rot or insect related damage.
Affordability: Maintenance free vinyl goes hand in hand with affordability.  Most importantly, vinyl has the lowest upfront costs of all the siding mentioned in this article.
Negatives:
The main complaint against vinyl is its commonality. Chances are, many of your neighbors have vinyl installed and therefore it's hard to stand out.  Another strike is although it's designed to withstand nature's heat, there are times when glare from windows can actually deform it. The fix for this is relatively simple- all you need to do is apply a film to your glass.
James Hardie Siding

Currently installed in more than 5.5 million homes in North America, James Hardie siding is rated as the global leader in fiber cement siding.
Features and Benefits:
Appearance: Hardieplank is gaining popularity as it can be made to mimic wood, stone and stucco finishes. This means you can get whatever finish style or color you want for your home – whether traditional or modern. Hardieplank also comes in wider 5, 6 and 7″ reveals which distinguishes it from the ever-present 4″ vinyl.
Endurance: Hardieplank is composed of 90% sand and cement making it highly resistant to normal wear and tear. It has been designed to withstand worst case weather scenarios and also is manufactured differently depending on what region of the country you live in.
Fire and water resistance: This type of siding will not melt, warp or shrink and is impervious to insect damage.
Warranty: HardiePlank has with a 30-year non-prorated,  limited,  transferable warranty, and the coating has a warranty from the paint manufacturer for as long as you own your home. Click here for more information.
Negatives:
Breakage: Hardieplank is durable once installed, but is easily cracked or broken when being moved. This translates into higher labor costs during installation.
Shorter Lengths: Hardieplank only comes in 12′ lengths as opposed to longer 16′ lengths on some vinyl and LP Smartside.  This increases labor costs and adds 30% more visible seams on the final product.
High Installation Labor Costs: Fiber cement has high labor and installation costs. You would probably spend about 40% more using James Hardie rather than vinyl. This is because it weighs considerably more than vinyl.
Upkeep: The industry secret with Hardiplank is that although it is able to come pre-finished, both the manufacturer and the paint applicator require that a field applied top-coat be completed post installation.
LP Smartside
LP Smartside siding has quietly become more popular than Hardieplank because it offers unbeatable moisture protection, longer lengths and is dramatically easier to install. Incorporating an entirely different technology from cement board siding, LP Smartside helps give your home the warm, natural feel of real cedar. The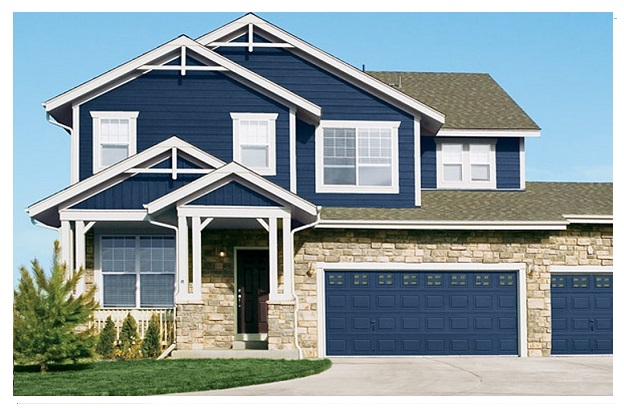 reversible smooth look is also extremely popular and offers a lot of design flexibility during installation.
Features and Benefits:
Ease of installation: LP has longer 16' planks equaling 33% fewer seams over products with 12′ lengths. It doesn't break when moved or carried and is very resistant to hammer marks.  LP Smartside siding can be installed without need for any special saws or equipment. It doesn't produce toxic cement dust like Hardiplank which makes it a dream for installers to work with.
Impact resistance: LP Smartside siding is more resistant than James Harding sidings to impact damage from common projectiles such as rocks, golf balls and even hail stones. In fact, independent tests by NASA (NASA Commercial housing report 2012) confirmed that it sustained considerably less impact damage than fiber cement siding under similar conditions. ( Check out the video )
Selection: LP has products for the entire exterior of your home. Lap siding, soffit and fascia, cedar shakes and board and batten.
Cost advantages: Due to its light weight and longer lengths, it is less expensive to install. Despite its lightness, it is still stronger than Hardieplank. This is evident in the length of its warranty which is way longer than those for other siding options. It is also available in many colors, textures and trims.
Warranty: LP Smartside offers a industry leading warranty program which you can read about here.
Negatives:
Although LP Smartside is a phenomenal product, there are a few negatives that we would be amiss in not pointing out.

Flammability: LP does apply a firesmart coating to its product giving it a 30 minute fire rating, but eventually it will burn.
Expansion/Contraction: Unlike Hardiplank or vinyl siding, the individual planks of siding must be installed with a 3/16″ gap between them to allow for expansion and contraction. This is hidden by using a color matched flashing, but some homeowners don't like this look.
Verdict
There are many reasons why vinyl siding is still the most commonly used exterior protection for a home. It has myriads of options to earn major style points. It is the easiest to maintain and provides long lasting weather protection. Its durability means you will spend less in installation and maintenance than any other siding option we have covered. For the lover of the environment, vinyl is less of a land or air pollutant. For the budget minded homeowner, vinyl ticks all the boxes as your choice of siding. If you do not mind paying extra for an eye-popping and tasteful veneer befitting your home, LP Smartside is the way to go as it offers you great advantages and a beautiful finish.
Whichever type of siding you choose to go with, please make sure that you have a certified siding contractor completing the installation. 
[gallery_bank type="images" format="masonry" title="true" desc="false" responsive="true" display="all" sort_by="random" animation_effect="bounce" album_title="true" album_id="3″]